Check availabilities
Our fleet is one of the most variable to be found, including: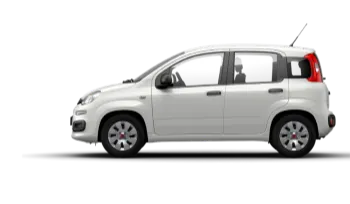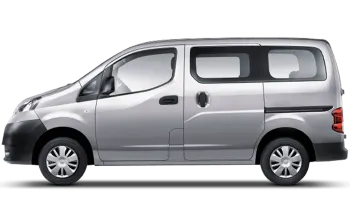 Vai Palm Beach - Paradise in Crete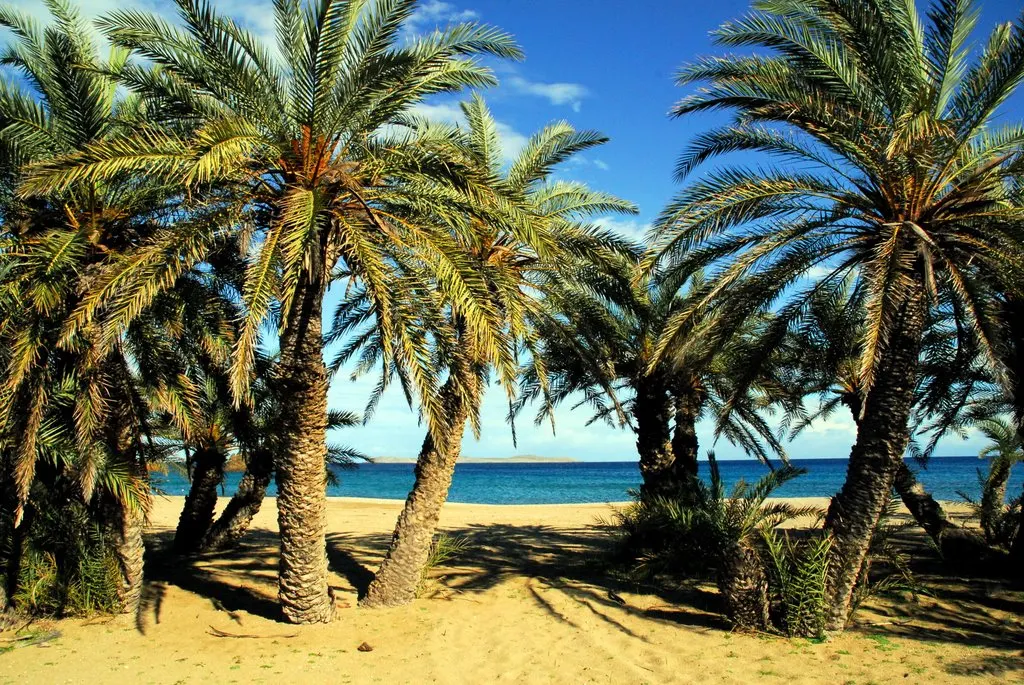 Vai palm beach is a stunning, famous destination due to its exotic palm trees and turquoise waters, located on the eastern coast of Crete. The beach is surrounded by crystal-clear waters, offering a perfect spot for swimming, sunbathing, and snorkeling.
It is located near the town of Sitia and is easily accessible with a
rental car
from Autocreta.
Visitors apart from the beach, can also enjoy a walk through the palm grove, which is a protected natural reserve and one of the largest
palm forests
in Europe.
Vai is the largest palm grove in Europe and consists of more than 5,000 trees that create a unique and breathtaking landscape. The beach is a protected area and is considered a natural monument, making it an ideal destination for nature lovers.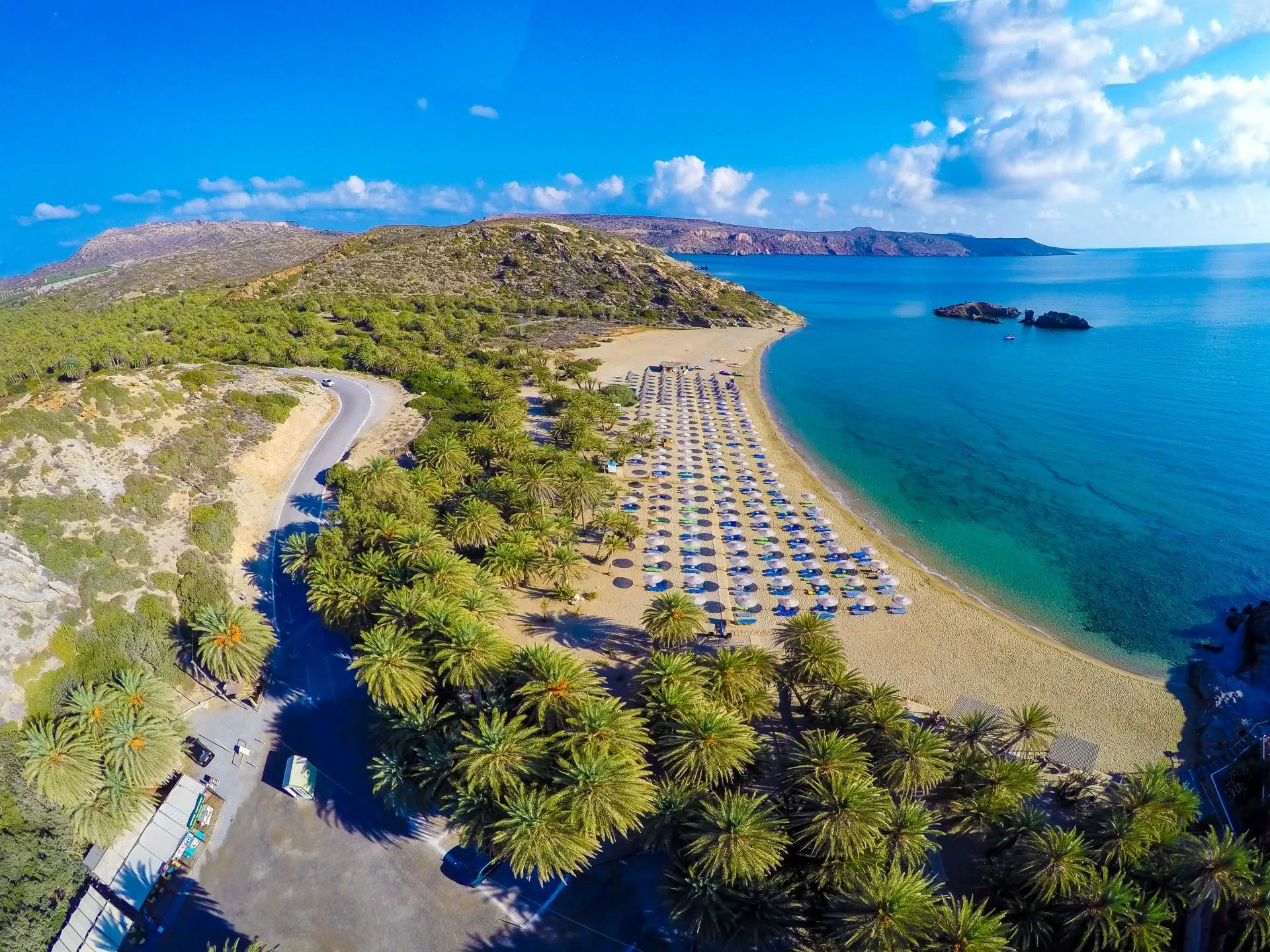 Apart from the natural beauty of the beach, there are many activities that visitors can enjoy, such as swimming, snorkeling, sunbathing and water sports. There are also several restaurants and cafes located near the beach, where visitors can enjoy traditional Cretan cuisine and drinks.


If you want to explore the area further, there are many other places to visit nearby, such as the Toplou Monastery, the archaeological site of Itanos, and the beautiful villages of Palekastro and Zakros. With Autocreta car rental services, you can easily visit all these places and create unforgettable memories of your trip to Crete.


To fully explore this beautiful region, renting a car with Autocreta car rental is a must. With our full insurance CDW, free kilometers, and modern car fleet, you can easily and comfortably travel to nearby destinations.
Unleash the Wonders of east Crete with Autocreta Car Rentals
Palaikastro is a charming village located on the eastern coast of Crete, just a short drive from Sitia. This small town is known for its laid-back atmosphere, picturesque alleys, and traditional architecture. Visitors can take a stroll through the village to admire the old stone houses and visit the small shops selling local products, including handmade ceramics and embroidery.
For those interested in history, Palaikastro is also home to the Minoan settlement of Roussolakkos, which dates back to the Late Minoan period. Archaeological excavations have uncovered a wealth of artifacts, including pottery, tools, and jewelry, which are on display at the Archaeological Museum of Sitia.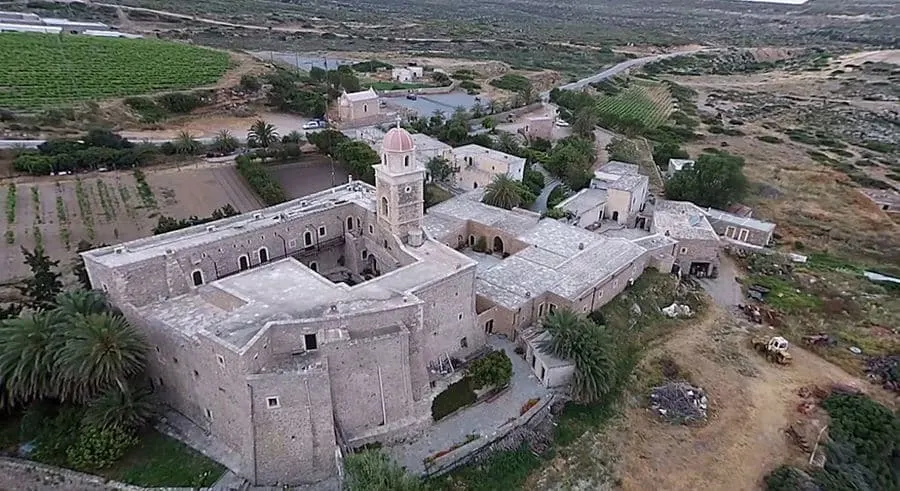 Monastery Toplou
, also known as the Monastery of Panagia Akrotiriani, is a historic monastery located in the eastern part of Crete, near the town of Sitia. Built during the 15th century, it served as a center for religious and cultural activities throughout the centuries. Today, it is one of the most important and well-preserved monasteries on the island, attracting visitors from all over the world.

Visitors to the monastery can explore the beautiful architecture, which includes a large central courtyard, a stunning bell tower, and intricate frescoes and icons. The monastery also houses a museum that features a collection of religious artifacts, including manuscripts, icons, and other objects of historical and artistic significance.

Itanos is a small village located on the eastern coast of Crete, near the town of Sitia. It is known for its beautiful beaches, crystal-clear waters, and rich history. One of the main attractions in Itanos is the archaeological site of the ancient city of Itanos, which was one of the most important cities in eastern Crete during the Hellenistic and Roman periods.
You can explore the ruins of ancient Itanos, including the remains of the city's walls, temples, and public buildings.There is also a small museum in the village, which displays artifacts from the site and provides more information about the history of the area.

Kato Zakros is a small village located on the eastern side of Crete, famous for its beautiful beaches and historical sites. One of the main attractions of Kato Zakros is the Minoan Palace of Zakros, which was one of the four major administrative centers of the Minoan civilization. The palace was destroyed around 1450 BC and is now in ruins, but it's still an impressive sight to see.
In addition, Kato Zakros has several beautiful beaches to choose from. The beach of Kato Zakros itself is a long stretch of golden sand, perfect for swimming and sunbathing. Other nearby beaches include Xerokambos, a series of small coves with crystal clear waters, and Karoumes, which is accessible only by foot but is worth the effort for its secluded and pristine beauty.


Rent a car with Autocreta and conveniently travel to these destinations, making your stay in Crete an unforgettable experience.