In Autocreta Car Rentals, we work to make renting a car in Crete as easy as possible. Simple, clear and 100% affordable. We try the best by offering an excellent service and clear rental conditions from the very beggining. Without long queues or last-minute extra charges upon arrival.
Our philosophy makes choosing Autocreta the smartest choice. Our goal is to achieve top level of customer satisfaction by offering a wide variety of vehicles to suit all tastes, needs and budgets, always enjoying Crete with safety, driving the latest car models.
We cannot make it any easier for you! You collect your vehicle instantly, without waiting and ready to  start of your road trip along the island of Crete, with a perfect and secure rental car.
Our fleet is one of the most variable to be found. Economical vehicles, city-style cars, family models, people carrier Minivans, Cabriolets, SUVs and transport vehicles with a large capacity up to 9 passengers.
BEST VALUE FOR MONEY
Thinking of you, we offer the best prices with the best quality of service that you can have.
NO DISTANCE LIMITS
Drive without limits, venture to drive the kilometers you wish.
ROADSIDE ASSISTANCE
We provide roadside assistance 24/7 for when the unexpected happens.
CDW COVERAGE
Enjoy a worry-free rental and take full advantage of driving.
RENTAL THROUGHOUT THE ISLAND OF CRETE
Venture out, to discover this beautiful Medditerannean island, because paradise is really Crete.



We are the ultimate choice, not only because we have the best car rental deals, but also for the top quality of our services!
Crete, is full of breathtaking landscapes and truly amazing beaches, however most of them, are only reachable by car. Hiring a car to enjoy and explore the island, is the easiest way to discover all the secret treasures hidden in every part of this earthly Paradise. 
We guarantee our customers the highest quality car hire service and the lowest all-inclusive prices on the car market of Crete. With us, your only concern is to have enough time to explore Mediterranean's most wonderful island.
Free Car Hire delivery services at Heraklion airport
Our car rental agency, offers 24hrs car delivery at Heraklion airport, the time of your arrival. We know that after a long flight, the last thing you want is to wait in a que to collect your rental car. 
But not with us!!
We provide instand car hire delivery right after you have taken your luggage, without waiting!!
Heraklion Airport is Crete's main gateway towards Greece and rest of the world.  Its official name, is Heraklion International Airport "Nikos Kazantzakis" and is located only 3kms east, from Heraklion city.
Rent a car from Heraklion airport, the second-busiest airport in Greece, after Athens International Airport Eleftherios Venizelos, as it serves over 6 million passengers every year, who are traveling to domestic or international destinations.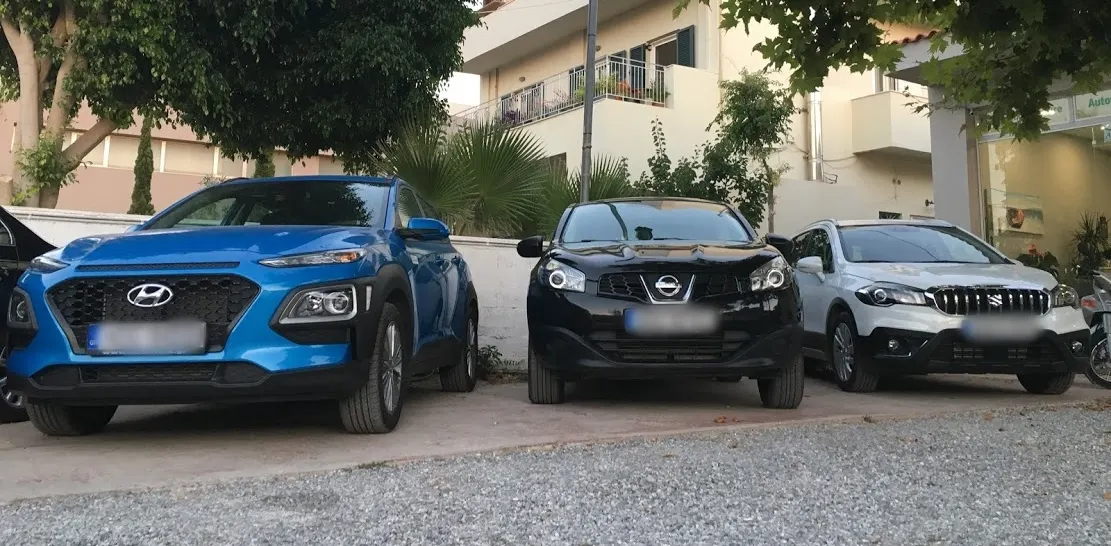 The island of Crete
Taking a holiday in Crete is not all about sunbathing in a hotel by the pool! You can explore the tropical island of Chrissi, relax at the palm beach of Vai, take a boat trip to Spinalonga, spend the day at the many Water parks in Crete or delve into the history of the island by visiting Knossos and Festos Palace and the magnificent Archeological Museum of Heraklion.
Crete is the southernmost island in Europe and offers something for everyone. The island, is the largest of all the Greek islands and it is the fifth largest island in the Mediterranean.
Is located directly on the Mediterranean sea. The perfect región combining sun, beaches and road trips. Heraklion, Agia Pelagia, Bali, Rethymnon, Georgioupolis, Chania, Platanias, Kokkini Hani, Hersonissos, Malia, Sissi, Agios Nikolaos, Sitia, are just examples of coastal towns where you can enjoy days of leisure and relaxation.
After all, it´s among the finest in the world and has established Crete as one of Europe´s most popular holiday destinations. And of course, the island´s historic importance in today´s world as the home of the Minoan civilization, which is believed to be the oldest civilization in Europe, with significant archeological finds at Knossos, Festos and Gortys, is evidenced by the thousands of visitors to these sites every year.
Cultural treasures
We will help you find small cultural hidden treasures. Cultural attractions, Gastronomic findings only known by locals, Architectural gems: Archeologican Palace of Knossos and Festos, Koules Fortress, Spinalonga islet, Fortezza in Rethymnon, Natural History Museum of Heraklion and many many more, all waiting for you to discover.
Natural landscapes
Enjoy endless amazing road trips with a rental car in mountain roads. Visit the mystic and savage charming south of Matala, Agia Galini, Plakias, Triopetra, Frangokastello, Ierapetra, Mirtos, Agia Fotia… A whole world to discover on wheels!
Amazing beaches
Relax and enjoy the paradisiac beaches of Crete: Elafonisi, Paleochora, Falasarna, Preveli, Elounda, Istro, Vai palm beach and so much more magneficent beaches with different styles of sand or pebbles… You will need a car hire if you really want to find where the best beaches are!
Exploring Crete with a rental car
Many tourists believe that it´s a good idea to have your own set of wheels, during  the whole time you´re on the island of Crete.
In Crete, beside the main big cities of the island Heraklion, Agios Nikolaos, Rethymnon and Chania there are no highly populated areas, so it is difficult to travel fast to the other side of the island with public transportation and sometimes, there is not even transportation. Additionally, there is no problem of heavy traffic and there are many parking spaces to service all the travelers with their hired cars.
When you have your rental car, you can go wherever you wish, whenever you want. That´s the beauty of having your own hire car wherever you go. Especially with car rental from our company, offers you the ability to travel all around Crete to see all the beauties of the island, without any limitation in kilometers. 
Just plan your trip and decide whether you need a large family car, a city car or even a convertible.
Moreover, if you decide to rent a car, catch the opportunity to drop on in the place you arrive, at the airport or at the port. Our company is able to serve your holiday car, at the port of Heraklion or in one of the two major airports of Crete, Heraklion or Chania. So, you will have the advantage to transfer your family with all your luggage directly to your accommodation, without difficulties.
You will need a rental car to enjoy all that Crete has to offer. Of course you can drive your own car all across Europe to the island, but that would not be a practical thing to do, unless you are staying in Crete for some considerable length of time. For the sake of practicality, your best option is to rent a car.
5 Things you Should know about Crete Island
1.Traffic and traveling
If your definition of traveling means safety, tranquility, natural beauty and little traffic, then Crete should be a good option. Unlike the bustle of the capital cities Heraklion and Chania, the island in general is very calm and peaceful. You will not spend hours in traffic, meaning that you will spend more time with your family or friends exploring the island. And if you drive to the southern parts, you can be in an even more peaceful and private environment.
2.The climate
Crete is located in two climate zones. Most of the island is located in the Mediterranean zone, while the southern coasts are located in the North African zone. The island of Crete has one of the healthiest climates as it is fairly humid, close to the sea, with short mild winters and cool summers.
3. Local food and drinks
Crete is the heart of the Mediterranean gastronomy. The food is marvelous and tasty, mostly because of the natural ingredients that been used for it. Crete has one of the oldest and most delicious culinary traditions in the world, a tradition of flavors, aromas, materials and techniques that dates back to prehistoric times and continues to the present day. It is a cuisine based on what the Cretan land offers such as aromatic herbs and spices that grow in the mountains of Crete, olive oil, legumes, fruits, vegetables, honey and wine, that are the pinnacle of Cretan cuisine.
Moreover, this experience focuses on the drinks of Crete, particularly the Cretan wine and raki. With its numerous indigenous grape varieties, its size which makes it the second most important region in Greece in terms of wine production, its complex topography, as well as the fact that it is an extremely popular tourist destination, Crete can be a driving force for an excellent future of Greek wines.
As for the raki, an integral element of Cretan culture, Raki or Tsikoudia is not just another local product. Today, Cretan raki is rightly recognized by many as "the national drink of Crete" and is considered more than just a traditional welcome drink.
The tsikoudia of Crete is inextricably linked to the identity of an entire place, interwoven with Cretan hospitality and essence of tradition. For these reasons, the Cretan tsikoudia is among the most widespread Cretan gifts, as it is a means of communication and a sign of friendship and kindness.
Raki, like other traditional drinks like tsipouro and ouzo, is served chilled in small raki glasses accompanying the famous rakomezes or after the meal as a dessert with spoon sweets and other sweet treats.
4.The tourism
Crete is an island that runs by tourism, so you will encounter a vast amount of activities for tourists all around the island. That means that you won't run out of activities to do while you're here.
Throughout the year you will come across a great number of festivities that you can be a part of and that gives you a chance to know more of our island's culture and traditions.
If there is one place that can be included in all tourist guides as the most perfect destination for different types of tourism, then it is Crete, which offers agrotourism, ecotourism, religious tourism, conference, culinary, diving, alternative activities and sports tourism.
5.Our extraordinary landscapes
Every route in Crete is unique. Different landscapes, images, colors, aromas and sounds accompany the visitor in every step. In Crete, the visitor can encounter unique beaches, rocky mountain peaks, steep slopes, verdant mountains, imposing gorges, rocky terrains, rivers, lakes, Mediterranean forests, wetlands, fertile meadows, vineyards and olive groves.